Frequently Asked Questions
Find answers to some of the most frequently asked questions about BenefitsCheckUp, a free, confidential way to see what kind of financial help you or a loved one might qualify for in your area.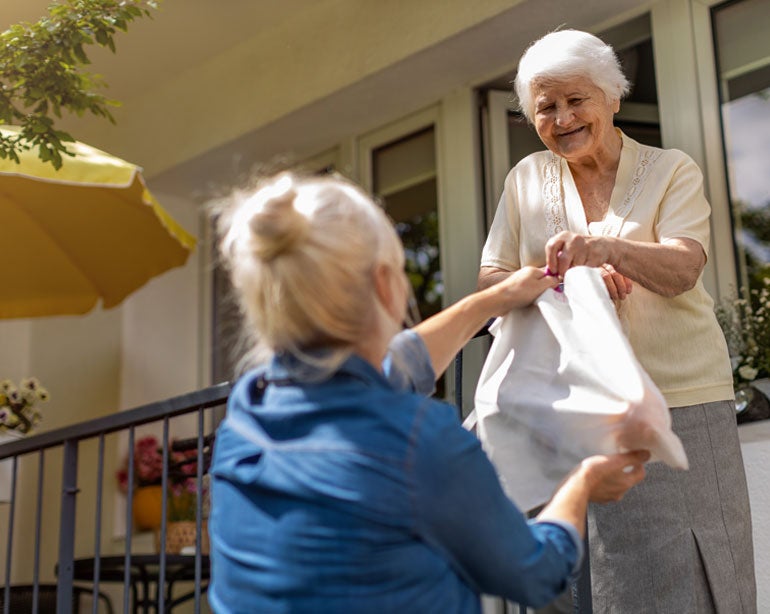 BenefitsCheckUp® connects millions of older adults and people with disabilities with benefits programs that can help pay for health care, medicine, food, utilities, and more. Find answers to some of the most frequently asked questions about BenefitsCheckUp, so you can see what kind of financial help you or a loved one might qualify for in your area.
Frequently Asked Questions
Do I have to pay to use BenefitsCheckUp?
No, BenefitsCheckUp is completely free. You can you enter your ZIP code to browse the benefits programs available in your area or enter additional information to complete a screening to see if you may be eligible for certain programs. From there, we'll help you get in touch with the agencies that can help, and direct you to the place where you can apply online.
How do I check my eligibility or see if I quality for any programs?
To see if you're eligible for a program or a group of programs such as help with prescription drugs, health care, housing, and utilities, click the "See if you may be eligible" button, answer some questions, and we'll let you know if you may be eligible for certain programs.
Can I submit an application directly on BenefitsCheckUp?
No, the only application that can submitted on BenefitsCheckUp is a low-income subsidy, or LIS/Extra Help, application. For all other programs that require an application, you can either download the application form and send to the administering agency, or click "Apply Online" to apply directly on the program's website.
How do I sign up or qualify for SNAP?
The Supplemental Nutrition Assistance Program (SNAP) is a lifeline for older adults, helping them buy the food they need to maintain good health. SNAP considers the size of your household, defined as "everyone who lives together and purchases and prepares meals together," when calculating your eligibility and potential food assistance benefits.
How can I get help paying for prescriptions, utilities, and other bills?
If you have not already done so, perhaps the easiest way to learn about the wide range of benefits programs you may be eligible for is to use our free, confidential screening. BenefitsCheckUp helps identify savings programs available for property taxes, health care, food and nutrition, utility costs, and more. 
What are the income requirements for Medicare and Medicaid?
The income guidelines for Medicare and Medicaid are determined by your state and by program. You can enter your ZIP code on BenefitsCheckUp, select "Health Care & Medication" and browse by program. For more detailed information about those programs, you can reach out directly to the agency for eligibility requirements.
How do I get help with finding housing assistance?
We recommend reaching out to your local Area Agency on Aging (AAA). They should be able to help in finding some resources in your area.
I'm a grandparent with custody of my grandchildren. Is there any help for us?
We don't currently partner directly with any programs for grandparents. But there are organizations and programs that recommend you reach out to or find more information about, including:
Do you have any information about reverse mortgage counseling?
Reverse mortgages can be a tool for older homeowners seeking to bring in extra income. But there is a lot of confusion and fear about these products, their intention, and who should obtain them. You can learn more about what a reverse mortgage is, how it differs from a home equity loan, and how much a reverse mortgage may cost by reading this resource from the National Council on Aging (NCOA). NCOA's official guide, Use Your Home to Stay at Home©, explains the advantages and disadvantages of reverse mortgages, as well as other resources available to help older homeowners age in place.
I am about to be or am homeless, what do I do?
Reach out to your local Area Agency on Aging (AAA) for local resources. Most of our programs require an application and can take time to process and get approval. An AAA may have sources with faster access.
I am disabled, how can I look for help?
We primarily work with older adults, but we do have some info on Aging and Disability Resource Centers (ADRCs). ADRCs seek to address the frustrations many older adults, people with disabilities, and family members experience when trying to learn about and access long-term services and supports. Contact information for many ADRCs can be found through the Eldercare Locator.
Can I get assistance with food, rent, and utilities if I am not an older adult?
BenefitsCheckUp is generally a resource for adults age 65 and older, but there are programs available that do not have an age requirement. To find these programs, enter your ZIP code on the homepage to find benefits assistance programs in your area.
See What Key Benefits Programs You May Qualify For
BenefitsCheckUp can help you assess whether you can get help from programs before you apply. Answer questions anonymously to find out if you may be eligible for key benefits programs, including the Supplemental Nutrition Assistance Program (SNAP), Medicare Savings Programs, Medicaid, Medicare Part D Low Income Subsidy (LIS) - Extra Help, among others.
Have Questions? We're Here For You
Have more questions about your experience with BenefitsCheckUp? Call our helpline at 1-800-794-6559, Monday through Friday, 9 a.m. to 5 p.m. EST.